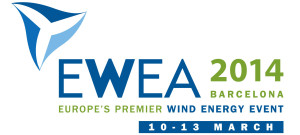 Wind power is one of the great hopes of renewable energy to become a real energy from oil, natural gas or nuclear alternative. This March , the business sector will meet in Barcelona, ​​10 to 13 March EWEA welcomes the annual meeting .
Maybe abbreviations EWEA did not say anything to many people, but the it is the acronym for the European Wind Energy Association , the association that defends INTERESTED of European wind energy for more than 30 years ago. This annual conference is the most important thing about this type of clean energy that is held in the old continent , and companies take advantage of the industry to present their latest products and services . There is also an exhibition , conferences and networking opportunities with other companies or countries.
While Europe is the region where wind power is more entrenched and more importantly, our continent increasingly prefers this type of energy . It is hoped that representatives from more than 60 countries with which industry professionals can learn about new developments and initiate new business relationships or find suppliers from different places in Europe and the world.
For all passionate about renewable energy , we share this video created by Siemens one of the many conference participants.